Join Julie Peters to celebrate the launch of her first book, Secrets of the Eternal Moon Phase Goddesses: Meditations on Desire, Relationships, and the Art of Being Broken (SkyLight Paths).
Come to Cafe Deux Soleils (2096 Commercial Drive) on Sunday, June 26th, and enjoy delicious vegetarian food and a beverage while taking in performances from poets Emilee Nimetz and Alberto Benavente, as well as contemporary dancer Olivia Davies, bellydancer Rahel, and burlesque Queen of the Night Sky Luna Essence! There will also be short readings from Julie, of course.
Sunday, June 26th, 2016. Doors at 7pm, show starts at 8pm. $5-$10 at the door; proceeds go to the performers.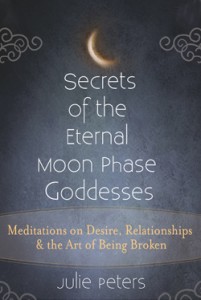 More about the book from SkyLight Paths:
Part spiritual practice handbook, part introduction to Tantric traditions, part personal growth guide, this book is for anyone who wants to embrace the confusion, loss, loneliness, desire and pleasure that make up the spectrum of human experience―and better understand who they already are.
"I LOVED this book! It is deep and dangerous and absolutely necessary."~ Rabbi Rami Shapiro, author of Embracing the Divine Feminine: Finding God Through the Ecstasy of Physical Love–The Song of Songs
"This book is a treasure trove! Julie has created a tremendous resource that will inspire, uplift and empower her readers." ~ Eric Stoneberg, Tantric teacher and yoga instructor
Julie Peters is a yoga teacher and a writer with a biweekly column on yoga in Spirituality and Health Magazine. She has also represented Vancouver twice in the Women of the World Poetry Slam competition. She runs Ocean and Crow Yoga studio with her mom, Jane. Learn more at jcpeters.ca.