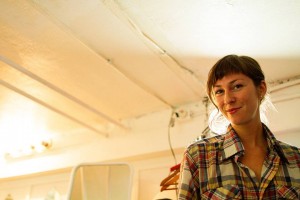 Contact: https://www.oceanandcrow.ca/contact
Julie is a writer and yoga teacher (MA, E-RYT 500, YACEP) in Vancouver, BC, and owns and runs Ocean and Crow Yoga with her mom, Jane. She is a staff writer for Spirituality and Health Magazine and has written for various other publications, online and otherwise. She is the author of Secrets of the Eternal Moon Phase Goddesses: Meditations on Desire, Relationships, and the Art of Being Broken (SkyLight Paths 2016) and the Canada Book Award-winning WANT: 8 Steps to Recovering Desire, Passion, and Pleasure After Sexual Assault (Mango Media 2019).
Julie has worked with many forms of medical and alternative therapies to recover from anorexia, an anxiety disorder, a sexual assault, and the many other forms of heartbreak that are inevitable aspects of a full life. Much of her writing and teaching focuses on helping others with their healing processes on the mental/rational level as well as the somatic/energetic level. She has been trained in meditation, mindfulness, trauma-informed yoga (with Nicole Marcia) and counseling practices, generally from a feminist and anti-oppression perspective. She offers a one-on-one body/mind program for stress, relationship problems, self-love, and whatever obstacles may be holding you back in your life called Pathfinding. Learn more here: https://www.jcpeters.ca/offerings/pathfinding/. Follow her @juliejcp
Excerpt on Masturbation Meditation at Ovee Health 
Interview with the Mental Illness Happy Hour Podcast 
Feel: Healing the Spiritual Wound of Sexual Trauma (excerpt at Spirituality and Health 
Interview with Julie Peters on the Sex with Dr. Jess Podcast 
Interview with Julie Peters on the Out of the Box with Rosie Tran podcast 
Sexual Assault is Not the End of My Story: An Interview with BJ Buckley
Interview with Yoga Outreach on who belongs in yoga classes 
12 Amazing Yoga Teachers in Vancouver
Interview with LadyBossBlogger
Interview with Natalie Rousseau on Narrative in Daily Life 
Interview for Sexy in Vancity with Caroline MacGillivray
How to Be a Successful Yoga Teacher: Modern Yoga Podcast with Leo Cheung
Interview on Secrets of the Eternal Moon Phase Goddesses for My Seven Chakras Podcast
facebook.com/juliejcp, twitter.com/juliejcp, instagram @juliejcp.

The photos on this website are by Andi McLeish, Christoph Prevost, Nora Nathoo, and Jillian Christmas.
Get in touch: https://www.oceanandcrow.ca/contact